Posermocap – Imagination in Motion
Motion Capture Animations for Daz M4, V4, and Genesis
PoserMocap.com creates the animation data that you need to create your animated film or video game. We provide professional motion-capture (mocap) data specifically designed and optimized for Daz3d.com's Michael 4, Victoria 4, and Genesis 3D characters. Our selection of pre-built moves packs gives you access to cost-effective, high-quality animation with a click, and our custom motion capture services allow you to request that special animation that you need for your project. We make Poser mocap and Daz mocap extremely easy to use and give you access to a library of high-quality, high-octane animated pose data.
Our Latest Mocap Product Now Available on DAZ3d.com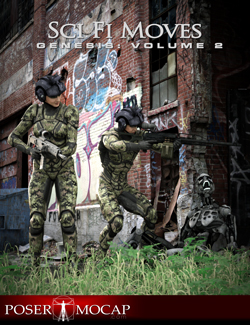 Click here to buy on DAZ3D.COM Now!
The remaster continues with our newest motion capture pack of Sci Fi Animations and Aniblocks for Genesis, Genesis 2 Male and Genesis 2 Female, just released now on DAZ3D.com.
Sci Fi Genesis Volume 2 is continues what began with the first volume, expanding the action to the Genesis range of characters. As before, we've gone above and beyond just a simple remaster; we've provided brand new poses to introduce into your sci fi epic!
This pack comes with 17 different motion captured animations, all of which have been optimized for Genesis, Genesis 2 Female and Genesis 2 Male characters.
These can be applied with just a couple of clicks into your own animated scene or by dragging and dropping the aniblocks on the aniMate timeline.
Also includes 10 still poses taken from mocap data for each character – over 300 still poses in all!
Motion Capture for Daz|Studio and Poser
The development of Daz|Studio and Poser in recent years has put the ability to create character animation in the hands of the masses, and PoserMocap.com was designed to allow animators to make use of the tremendous potential of the Daz characters for Poser and Daz Studio by providing professional, optimized motion capture libraries specifically for those characters.
The availability of characters such as Daz's Michael 4 and Victoria 4, as well as their latest figure: Genesis as well as massive clothing and props libraries for each, means that now everyone has the potential to create their own animated movie.
Motion capture actually converts the performance of a live actor into computer animation data that can be applied to your 3D character model and until recently, has only been available to high-end game and film studios. With PoserMocap.com, we make the power of motion captured animations available to Poser and Daz animators.
PoserMocap.com and Motion Capture for M4, V4, and Genesis
PoserMocap.com has created a number of pre-built motion-capture animation packs, we call Move Packs, that you can view in our Products Gallery. We offer action based animations suitable for fantasy, modern, horror, and science-fiction animations.
Each pack contains a series of moves available as Poser Animated Pose files (PZ2) and BVH formats, and soon to be available in Aniblocks used in GoFigure's Animate 2 Plugin for Daz|Studio. We make sure that every mocap file in the pack is optimized for either M4, V4, or Genesis, meaning that the animation works right away without any tweaking or adjustment.
We have been really impressed by the animation potential offered by the new Daz Genesis figure and we will be providing a lot of support for this new and powerful 3D character. Watch for new and upcoming packs of motion capture for Genesis.
BVH animations are also provided in our packs for those who want to apply the motions directly to other characters. The generic-format BVH motions, unlike the optimized mocap for M4, V4, or Genesis will require some adjustment by the user to make sure that the animation fits.
PoserMocap.com Move Packs consist of motion captured animated pose files that are built explicitly for your Poser or Daz character. They are designed to be easy to apply and work right out of the box, so you spend less time fighting with your software and more time doing what you want to do: animation.
Our animated pose files work natively with Poser and Daz|Studio. Copy them into your runtime, browse to them in either application, and click to apply the pose to your character. Pose files will work directly on the character, without the need for a third-party plugin and with Aniblock support coming soon, you will also be able to apply the PoserMocap.com Aniblocks in GoFigure's Animate 2 plugin for Daz|Studio.
Animating in Poser or Daz Today with PoserMocap.com
With the power of Poser or Daz in your hands, you have the ability to make that animated story you always dreamed of making, and with PoserMocap.com's motion-captured animation data, your animation just became a lot easier. Animate your characters with a click using our pre-built moves packs of mocap for M4, V4, or Genesis, or if your budget allows, commission some custom motion-capture data from us.
Check out our selection of Moves Packs in our Product Gallery now and start putting your imagination in motion.
Our Top Sellers on DAZ3D.com