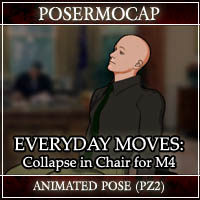 Posermocap.com is pleased to release a free animated pose for Daz3d's Michael 4. Weary from a long day at the office, Michael 4 collapses in to a chair and rests, too weary to move any further. The motion-captured animated pose is a PZ2 file and can be added into your animation with a couple of clicks in either Poser or Daz|Studio.
Click on the image to the left to start your download.
As always, if you use it, let us know.