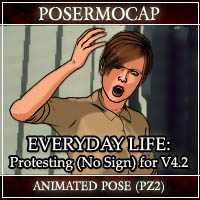 Continuing with the Everyday Life poses, we've added a new motion-captured animated pose for Daz3d's V4.2. This pose has Vicky angrily protesting for your favourite cause–and if you close the fingers on her right hand, she shakes her fist. The animated pose is a PZ2 file and can be added into your animation with a couple of clicks in either Poser or Daz|Studio.
Click on the image to the left to start your download.
We love to hear what people are doing with our work. Let us know!