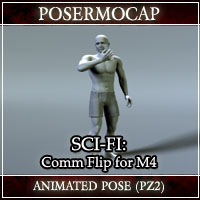 Download our latest free motion-captured animated pose from Posermocap.com. This pose is for Daz3d's Michael 4 character.
The "Comm Flip Standing" pose, which shows M4 casually flipping open the cover of a science-fiction communicator, giving a command, and then flipping it closed. Use this in science-fiction animations, or even animations showing the character using a modern-era flip phone.
This is an animated pose file that can be applied to Michael 4 with just a few clicks inside either Smith Micro's Poser/Poser Pro or Daz3d.com's Daz|Studio.
Click on the image to the left to start your download.